B.E., M.E., Ph. D. (IIT Kanpur)
Director (Academics & Administrations)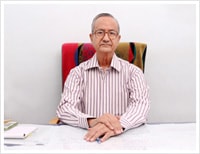 An eminent academician in the area of Structural Engineering. He has over 46 years of teaching and research experience including that of teaching in Southern Africa and Libya. He has been offered Emeritus Fellowship by AICTE, New Delhi while at MNIT Jaipur. He has various technical papers of National and International Level to his credit and has authored two text books. He is a fellow member of Institutions of Engineers India and Life Member of ISTE and ISTAM. He has supervised more than 30 post graduate and doctoral dissertations.
He was invited by IIT Kanpur to work there as visiting professor/guest faculty for one year, in the year 2000.
Apart from representing in various state and central level committees for civil engineering works, he has been actively involved in numerous prestigious consultancy projects of government and private organizations.